Australian Skylights
Skylight Installation, Products & Design in Melbourne

Everybody loves the feel of a room bathed in natural daylight! Skylights are a fantastic investment, not only adding value to your property but saving you money using sustainable natural resources! Skylights are the perfect way to light up your interior space with natural ambient light and have a beautiful effect on the design of your interior.

We are no longer in the times of only having tubular options available to bring natural light into your home, Australian Skylights offer a range of skylight varieties to suit your space. Many people will opt for a shaft skylight simply for the beauty the architecture creates, however there are many other benefits of installing a skylight into your home.

Skylights are not just for the indoors! They can also be used in outdoor entertaining areas/alfresco and verandas. Allowing the light to come in and not the rainy weather!

Browse below for just a few of our options, for any further information or a quote, call us today!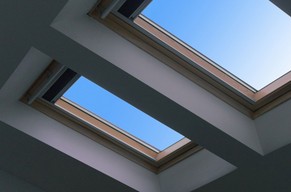 Double Glazed Skylights
Like Roof Windows, they have the benefit of bringing the outside in visually - with numerous other benefits.
Double Glazed Skylights are 2 sheets of glass, with a vacuum in between to produce a thermally insulating product, ensuring minimal temperature changes. Read more about Double Glazed Skylights
here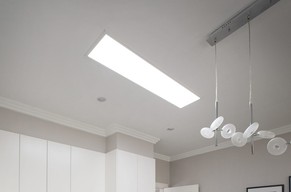 Illume™ Solar Skylight Alternative
The Illume Solar Skylight alternative harnesses solar power to light up the space, the solar panel is placed onto your roof and the light panel inserted into your ceiling. No structual changes for a shaft or a tube is needed! This is a very versatile product for any roof space. Read more
here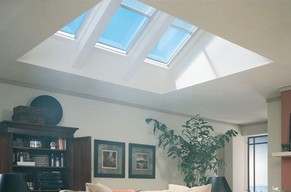 Plaster Shaft Skylights

Plaster Shaft Skylights are a very popular product for a number of reasons, they are very architecturally appealing, allow the visuals of the outdoors in & completely light up a room! With the right design and installation, they can ultimately transform a home. A shaft sklylight is constructed and insalled on site.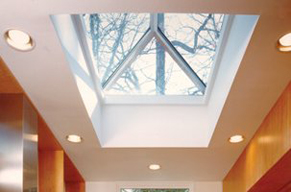 Roof Window Skylights

Roof window style skylights flood a room with natural light during the day and provide a panorama of stars at night. Very architecturally appealing, they will transform any space. They are built into the desired space and will usually always be custom made.